Ducati has carved out its own niche as one of the leading motorcycle brands in the world, but who owns Ducati? Our Thornton customers regularly ask us, "Did Harley buy Ducati? Who makes Ducati anyway?" and we're here to clear the air! Here, Erico Motorsports uncovers how the legendary automaker, Lamborghini, came to partner with this popular motorcycle brand.
History of Ducati
The roots of the Ducati brand date back to 1926 with the Ducati family. Back then, they specialized in producing radio components in Bologna. But as the Societa Italiana per Applicazioni Tecniche Auto-Aviatorie began moving into pushrod engines for bicycles, Ducati partnered with the brand and began to move into the Cucciolo motorcycle design. By the 1950s, Ducati split into an electronics company and a separate motorcycle line. By the 1960s, its popularity exploded, and the rest is history.
Modern Ownership
Ducati has gone through a number of changes in its long lifespan, leading to its current ownership by the Lamborghini brand.
1985: Italian motorcycle company, Caviga, takes ownership of Ducati.
1996: Texas Pacific Group gains sole ownership of the company.
2005: Investindustrial Holdings, an Italian company, gains control over Ducati.
2012: Volkswagen's Audi group makes its pitch, and its Lamborghini subsidy gains 100 percent of the shares.
Enduring Legacy
You know who makes Ducati, but how is a Ducati made? The Ducati brand is best known for its high-performance motorcycles, along with its robust engineering that can crank out the power without sacrificing ride quality. Signature components include the L-twin engine design, dry clutches, and trellis frame to create motorcycles with unbridled strength and power — still made in Bologna, Italy! Not just popular on the streets of Westminister and Aurora, Ducati has also amassed win after win in motorsports competitions like the Superbike World Championship.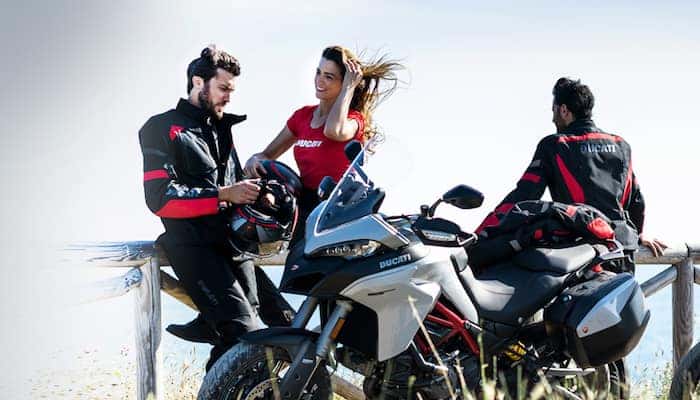 Find Out More About Ducati with Erico Motorsports
You've learned all about the past and present of this standout Italian brand, but where does Ducati fit into your future? Take a look at our new Ducati bikes to find out if you'll drive away in a brand-new Ducati Monster or Ducati Scrambler. Want to prepare for your new ride? Learn all about the motorcycle accessories and must-have riding gear that Denver customers love at Erico Motorsports!