Vespa Incentives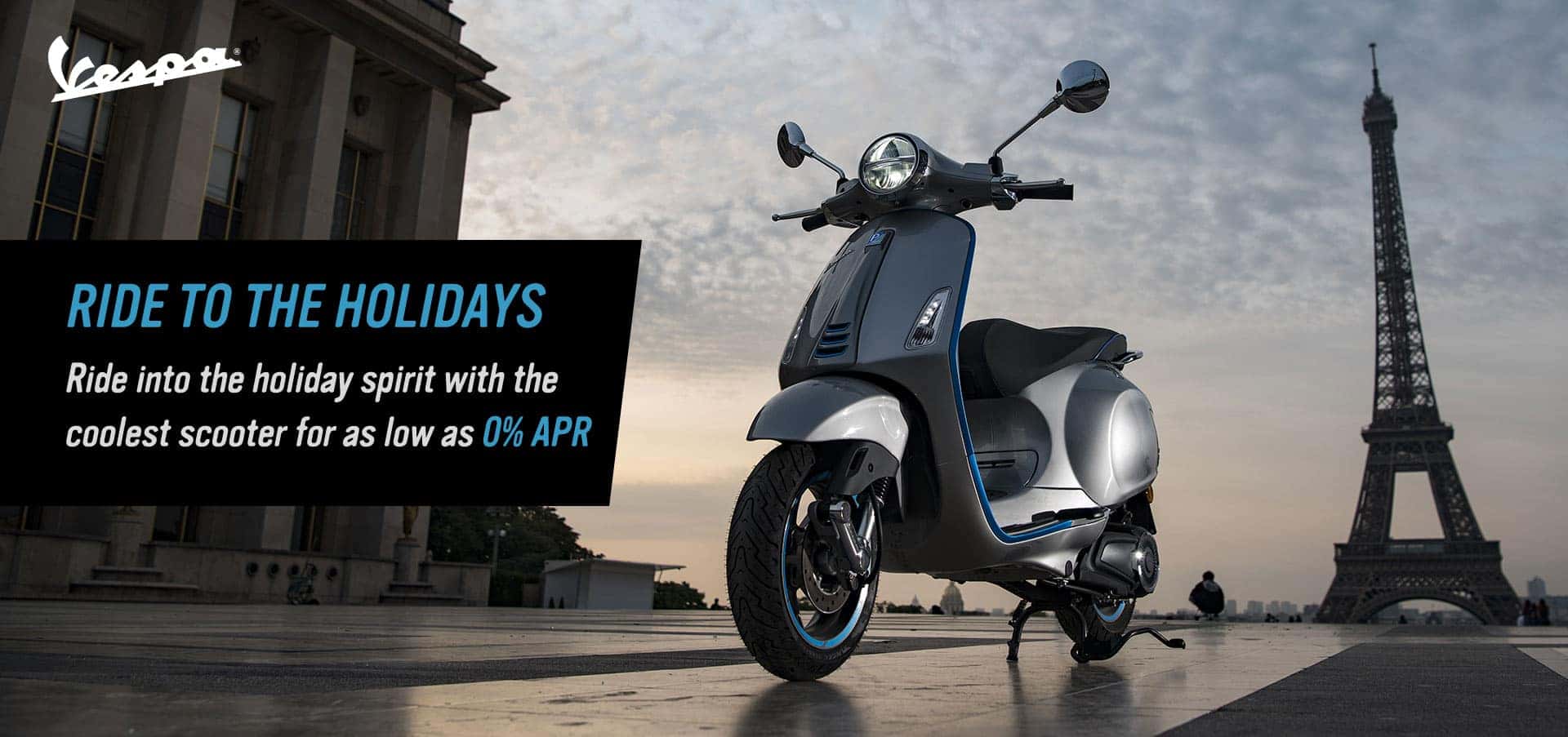 Winter is here and so are GREAT deals on Vespa scooters.  Erico is pleased to announce "RIDE TO THE HOLIDAYS".  This promotion is good until December 31, 2019 on all MY20, MY19 and MY18 Vespas.  
EMAIL SALES@ERICOMOTORSPORTS.COM   TO SCHEDULE YOUR TEST RIDE
VESPA MY19 & MY18:
Option 2:  3.99% APR for 60 months
VESPA MY20
Option 3:  5.99% APR for 36 months
MY18-MY20 Sprint Models:
Option 4:  0% APR for 36 months
SCROLL DOWN FOR PAYMENTS ON SPECIFIC MODELS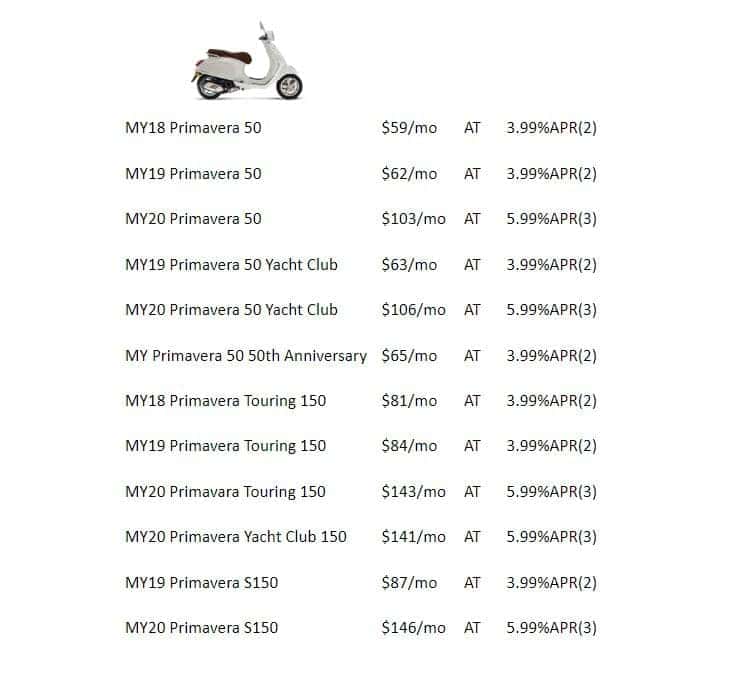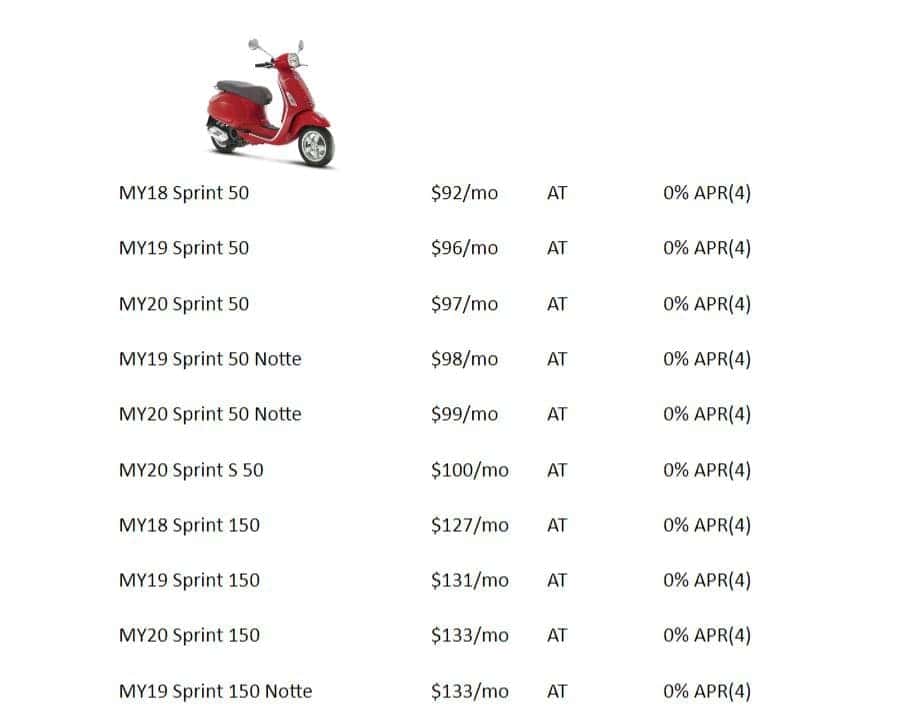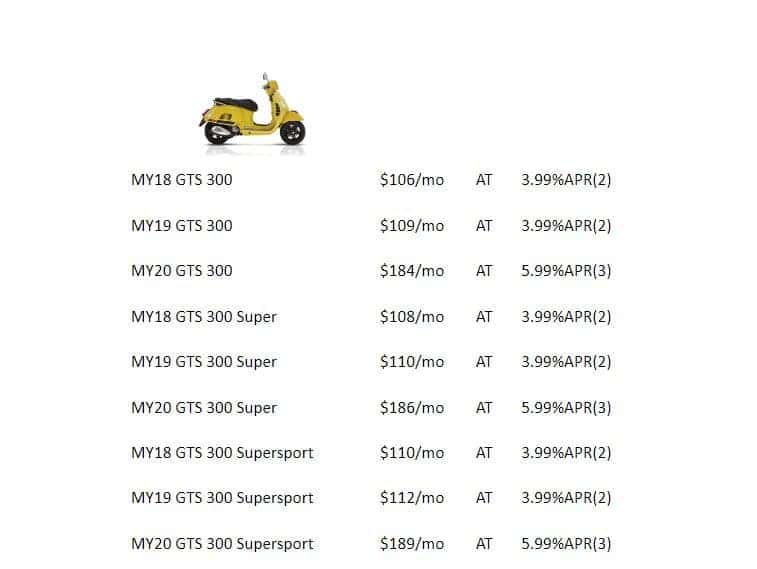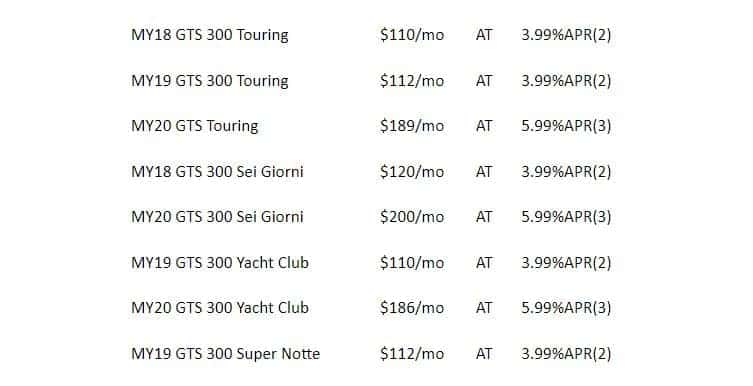 These offers won't last, so get on the gas!
Erico's stock may vary, please contact us regarding the model you desire and we will do our best to accommodate your request.  Offers valid from November 1st, 2019 through December 31st, 2019.
Option (2) 3.99% for 60 Months on MY18 and MY19:
Offer valid through  Sheffield Financial for qualified buyers.  Payments estimated with 15% down, freight & setup costs are on top due at signing for a term of 3.99% APR on 60 months.  Amount due at end of term not included.  Offer valid through participating and authorized U.S. Vespa Piaggio Group Americas dealers only.  Offer valid November 1st, 2019 through December 31, 2019
Option (3) 5.99% for 36 Months on MY20:
Offer valid through  Sheffield Financial for qualified buyers.  Payments estimated with 15% down, freight & setup costs are on top due at signing for a term of 5.99% APR on 36 months.  Amount due at end of term not included.  Offer valid through participating and authorized U.S. Vespa Piaggio Group Americas dealers only.  Offer valid November 1st, 2019 through December 31, 2019
Option (4) 0% for 36 Months on Sprint Models:
Offer valid through  Sheffield Financial for qualified buyers.  Payments estimated with 15% down, freight & setup costs are on top due at signing for a term of 0% APR on 36 months.  Amount due at end of term not included.  Offer valid through participating and authorized U.S. Vespa Piaggio Group Americas dealers only.  Offer valid November 1st, 2019 through December 31, 2019