How Long Do Motorcycle Tires Last?
Much like automobile tires, motorcycle tires wear at different speeds. You may be wondering, "How long do motorcycle tires last?" With routine motorcycle service, the front tire on a sport motorcycle can last for about 3,700 miles, while the rear tire can last for around 1,800 miles. Once the tires reach those mileage markers, a tire change is recommended. Read on to learn more about motorcycle tire life expectancy, along with how to get the most out of your bike's tires with routine service and repairs!
Tips for Motorcycle Tire Care
Keeping your tires in good shape is the key to getting the highest mileage possible from them. Follow these tips to keep your tires healthier for longer:
Although it's not practical to check your tires before every single journey, it's good to inspect them whenever you can. Take a minute or two to look them over and make sure they're properly inflated and there's no visible damage. If you find something strange, inform your tire dealer, and they'll let you know if tire repair or replacement is in order.
Purchase an electronic tire pressure gauge, so you can check tire pressure quickly. Digital gauges cost less than $20 and give you an accurate reading, so you know when it's time to add more air.
Use the digital gauge to check the tire pressure of both tires before you set out on a motorcycle trip from Denver.
Riding with reduced PSI (pounds per square inch) creates a "softer" ride, but doing this is actually quite dangerous. Reducing the PSI of your tires directly affects the bike's load-bearing capacity and can affect its handling and your ability to keep your motorcycle under control on Westminister roads.
Generally, it's a good idea to rotate your bike's tires when they've reached somewhere between 1/3 and 1/2 of their total riding capacity. If you'd like, you can also rotate them when they've reached approximately 2/3 of their capacity.
Signs You Need to Visit a Motorcycle Tire Shop
One or both of your tires may need to be replaced if you notice any of the following red flags:
Tire wear comes with age. If a tire is worn up to the tire wear indicator mark, it's time for a replacement.
Uneven tread wear is the result of not rotating your bike's tires. Most commonly, the tires will wear in a square-like pattern as the center part of the tread wears down.
Cupping or scalping of the front tire indicates a problem with the suspension system, and it's a good idea to schedule a service visit to get it checked out.
One or two punctures or cuts can likely be repaired, but if there are too many to count, it's best to simply replace the tire.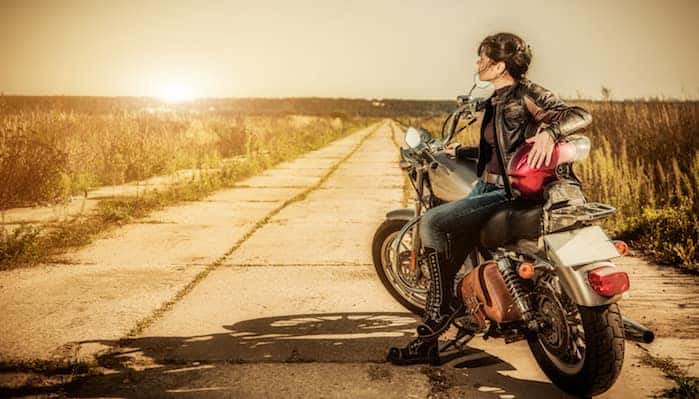 Schedule Tire Service at Erico Motorsports Today!
Whether you need tire repair or replacement, Erico Motorsports near Aurora can assist! Here, you'll find motorcycle tires for sale, along with experienced service technicians who can diagnose and resolve any tire issues. Contact our service center to learn more about our services or to get more tire care tips, such as how to properly change a tire.
Recent News from Erico Motorsports
Winters around Thornton bring plenty of snow, but that shouldn't mean you have to store your motorcycle away for the season. If you plan on riding a motorcycle in winter, check out our tips for how to winterize a motorcycle. As your trusted Denver motorcycle dealer, Erico Motorsports has the helpful hints you need! Learn More…

If you're shopping for a new bike for zipping around Thornton, you may be wondering, "How much is a Ducati?" Erico Motorsports has you covered with our Ducati price guide below. Whether you're interested in a new Ducati Panigale or Ducati Scrambler, chances are you can find one within your price range! Browse New Ducati Inventory…

When I was a child, everything that was "Adult" excited me! I remember pretending my lunchbox was my attache like my Father would carry to and from work and that my desk at school was a desk in an office that I was president of! When I got my first bicycle, I had arrived! I…