Penn and "The Art of your Motorcycle License"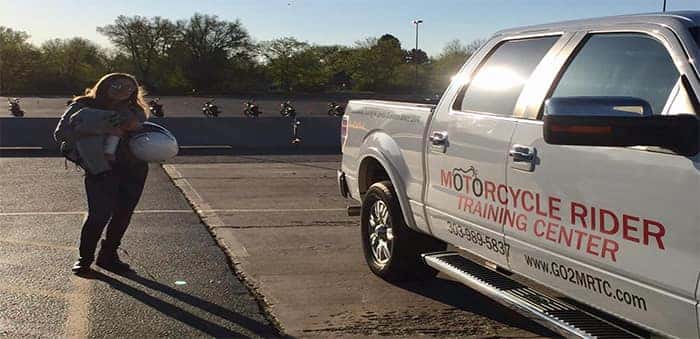 In April 2017, the world lost author, Robert M. Pirsig.  Robert died at the age of 88 and was best known for his book, "Zen and the Art of Motorcycle Maintenance", inspired by a 1968 motorcycle trip across the West with his son, Christopher.  Why is this important for me to write about?  Well it ties into my most recent rite of passage, turning 16 and acquiring my driver's license.   While most of my friends took the driving class and then went to the DMV and got their license, my parents required me to take both the car driving class as well as the motorcycle safety class before I could make that much anticipated trip to the DMV.  Their reasoning was that the skills it takes to ride on two wheels would help to keep me safe on four…
If you are reading this and thinking that you might also want to take a motorcycle safety class, I am going to highly recommend the Motorcycle Rider's Training Center, run by Bill Souder.  Bill and his staff are super knowledgeable, really cool and very patient.  Yes, I was the only 16 year old in the class, but I was not the only female.  Motorcycling is becoming more and more popular among women, so that made me feel a little more comfortable.  Plus it helped that we had Kelly, a female rider and instructor!
The class consists of 3 days of instruction.  First you take an online course, then there is a three hour interactive classroom section and then you finally get to suit up and head to the range.  I am not going to attempt to try and teach you how to ride a motorcycle in one blog post, instead I am going to give you my version of "Penn and the Art of your Motorcycle License"
First you need to familiarize yourself with the bike.  Up until this point I had been on a dirt bike and a bicycle, but this has a big motor.  It's fast and allows you to travel much further distances.  I believe this is a metaphor for me beginning my Senior year and preparing for my journey to college.
Next learn to evaluate risk when you ride, and what you need to do to avoid injury.  When you are riding on the range, you learn to swerve, stop quickly, ride over obstacles and constantly be on the lookout for an escape route.  These are also the lessons my parents have been teaching me along the way.  They were there when I was learning to ride my bicycle, and I know they will always be just a phone call away.  However, I also know that it's time for me to know when to swerve quickly and avoid getting myself into trouble.
There were approximately 20 people in my class and oftentimes we found ourselves riding together.  That is the cool thing about motorcycling; it's a sport that you can do alone or with a friend.  I guess it's probably similar to taking a road trip in the car, but it definitely feels different.  There is the feeling of the wind on your face and a much closer connection to your surroundings.  There are no doors or a hood protecting you.  When you ride a bike it's just you and the open road.  And that must be a final message.  Today I recognized that soon I will be leaving the safe cocoon of home.  And just like when Robert and his soon took off almost 50 years ago to explore the West, it's my time to fly.  Some of it I will go alone and for some of it I will pick up new friends along the way.  No matter where I am on the road, I will always be grateful for my motorcycle-loving parents who gave me the gift of learning to ride on two wheels.  I also want to thank The Scarlet Headers for my graduation gift.  It was a t-shirt and membership into their all-girl riding club.  Definitely a very cool honor for a brand new 16 year old rider!
Also, as an aside, I now have a valid driver's license but I had to wait an entire year before I could get the motorcycle endorsement.  There is a Colorado law that you must hold a valid driver's license for one year as a minor before you can get the endorsement. HOWEVER, I can still ride as long as my mom or dad are riding on bikes with me.  Which I guess is a great end to this experience, because it's good to know that I don't have to ride alone, at least for one more year.
"You look at where you're going and where you are and it never makes sense, but then you look back at where you've been and a pattern seems to emerge."
Robert M. Pirsig, Zen and the Art of Motorcycle Maintenance: An Inquiry Into Values