I Resolve to Ride More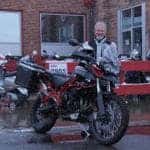 It seems like I pose a question at the beginning of a Two Wheels No Doors post – A LOT. So as not to disappoint our tens of fans, here is this month's question: How many of you store your bike over the winter? The reason I ask is this is the time for making New Year's resolutions. By the time this is posted, I'd be willing to bet more than a few resolutions have been made and broken already. So I'm going to pose a resolution that is easy to keep: ride all year, especially in the winter.
Why would you NOT want to ride year round? I get it, it's cold and it snows but the Front Range is, generally speaking, also blessed with wonderfully mild winters. For the naysayers, I'll give you three compelling arguments to ride year round. 1) Winter riding is good for your mental health. When we get those clear 60 degree days in the middle of January a nice relaxing ride is just the ticket to shake you out of the winter doldrums. 2) Riding in the winter eliminates "the fear". "The fear" occurs when you haven't ridden for a while and something mundane happens that scares the living crap out of you. If the same thing were to happen in the middle of the summer you'd handle it with no problems because your senses are sharp thanks to, you guessed it, riding more. 3) It's fun.
Of all the resolutions we make and break year after year resolving to ride more will be the one resolution that will be easy to keep. Guaranteed.
Shameless Plug Time. If you're in the market for a new bike, now is the right time to buy. We have a good supply of non-current inventory that's just waiting for a nice new home. If you're into financing, one of our lenders just extended their winter special ask one of the people in sales for details.