Why I Ride- Bilbo Baggin aka Chris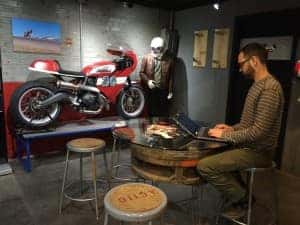 It started like any other fall day in Denver until someone brought to my attention that a service customer was in for scheduled maintenance on his Piaggio BV350. While the face value of this information doesn't stroke the imagination, I was then informed that he is vagabonding across the country on his BV. It was crystal clear that I had to seize the opportunity to sit down with him.
Chris, a computer programmer from Cincinnati, OH, is on the first leg of a monumental journey that will take him all over the lower 48 states. A ride that most of us only dream about from behind our desks. After getting to know Chris a little bit, it occurred to me that this man is a close rendition to Tolkien's character, Bilbo Baggins. The unassuming kind of person that never spent much time dreaming of a big life filled with adventures and preferred to stay at home whenever he could; and then unexpectedly set out on the adventure of a lifetime. After his wife, Christy, received an opportunity to work in China as a 3D sculptor for a year, Chris decided that he needed to do something different. Thoughts of buying an old house and fixing it up had crossed his mind, but despite his home-bodiedness he decided to strike out on the open road.
Fifteen years ago, after a whimsical plan proposed by a close friend, Chris walked into a dealership and bought a used Yamaha Vino 50cc scooter for $800 and Chris hasn't stopped riding since. He has primarily stuck to smaller displacement scooters fearing that the larger the scooter the more cumbersome to handle.
Leaving his home in Lawrence, KS Chris came to Colorado, purchased a 2016 BV350. He felt that the power of the BV engine could take him wherever he desired to go. And the physical size was just right for any city endeavors he was sure of having to face. He got the scooter back to his parents' house in Cincinnati and in July Chris set out on his journey. Remember this is a guy without any riding experience past an overnight endeavor and has been hard at it been at it ever since. Along the route, Chris finds an Airbnb or a motel for a week, or so, just enough time to get some of his computer programming work done and then he's off again.
As Chris tells it, the journey has been relatively safe and free of anything life threatening or life changing and yet he shows no signs of road fatigue on his face, or in his excitement sharing his journey with me. "Day to day I always look forward to seeing what's on the other side of the hill. Even after a long day of riding, 9 hours, I always look forward to being done, but there's always that feeling of, Eh, I could go a little bit farther."
When asked why he rides and why this monumental journey he matter-of -factly explains that with his wife's career as a 3D sculptor it's getting increasingly difficult to move from place to place, as they had done for years. With her being gone for the next year, he wanted to shed his remaining mid-life crisis anxiety before they decide on a place to land permanently.
Seeing the light in Chris's eyes and his excitement in detailing his journey reminded me of why we all took to two wheels in the first place. The new horizons, new cities that sit beneath our feet, and the ever-prevalent pondering of "Where do I go next?" Chris' next stop is Moab and from there Salt Lake City before he continues to Reno with the ultimate end game being San Diego for the holidays and beyond that it's is up to the wind.
as told by Team Erico member Aleczk