Napua Samoa-Eastman, Technician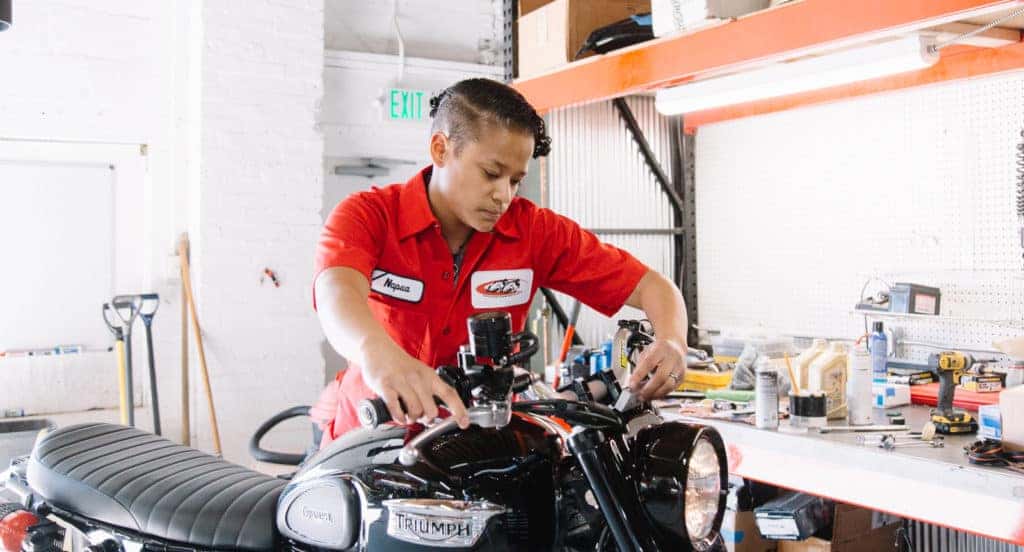 "A strong woman looks a challenge dead in the eye and gives it a wink." – Gina Carey
Being a woman in this world can be difficult, and being a woman in the motorcycle industry can be a challenge. I'm not complaining, though – challenges make success taste so sweet. When I was presented with the challenge of taking this 2016 Triumph Scrambler project and giving it life, I gave it a wink and dove right in.
The idea for this bike was born in the dead of winter. Cold mornings and even colder rides had everyone in the shop dreaming of long summer days and open roads. Everyone was longing for their own specific style of riding, some for the trails, some the track. The Scrambler was never really meant for tracks, so it made sense to design this for the dirt, doing only the bare minimum to keep it street legal.
The Scrambler was a great place to start building an offroad beast. It runs the tried and true 865cc engine that delivers high torque at low revs and a frame that positions the rider in a more upright position for better agility and vision. Starting with that foundation, my goal was to make it tougher, meaner, versatile, and more capable.
First, I outfitted the bike with aftermarket JVB Moto fairings from Germany, the same ones used in the third Mission Impossible movie, and mounted the front fairing on a custom bracket, bringing it higher up to allow more travel, letting the rider to go hard on the dirt if they wanted. Next, I chopped the seat pan and got it custom upholstered at Bitchin' Stitchin' in Denver, lifting up the tail and giving it a bit of a brat style look. Add to that the fully adjustable piggyback shocks from Bitubo shocks, which refines the geometry of the bike, British Customs airbox eliminator, Rizoma pegs, and Renthal bars and this machine has plenty of room for the power and suspension to go to work providing a smooth and comfortable ride for nearly any sized rider.
As the only female tech in my shop, I've learned it's important to have a loud bark to go along with my bite, and I wanted the same for this bike. I accomplished this with British Customs 2-2 high pipes to keep with the classic scrambler look but with a meaner growl. This isn't a cat purring, it's a mountain lion with her ears pinned back, snarling and ready to pounce.
To streamline the look a little more, I got rid of the stock gauges and designed and crafted a handmade metal case to house a Moto Gadget Mini Speedometer. I eliminated all the stock buttons on the handlebars and kept it simple. One button for turning the bike on, one button for toggling the menu, and one switch to turn the headlights between high, low, and off. Why? Because riding should be fun and uncomplicated.
To ensure this bike could actually spend all day doing what it was designed to do, I had to address the fuel tank. On the stock tank alone (4.2 gallons), you could have a nice ride, but if you were trail riding all day, pushing this demon up steep hills, accelerating out of tight turns and burning up the straightaways, you might find yourself stranded in some pretty unforgiving territory with nothing but fumes. That's where I added the finishing touch, an extra fuel reserve
bottle attached to the bike. Not only can this bike get you into some awfully deep fun, but it can get you back out, too.
I wanted to build a bike that I would ride and could ride. After all was said and done I sat back and asked myself that very question. Would I? Could I? Could I comfortably and skillfully control this bike? Could this bike handle the hard grind of an all day trip in let's say, Moab? Rampart? Would it not only perform well, but look damn fine doing it? The resounding answer: Yes.
I built this bike with a lot of help from the guys I work with. Without them, this thing would never have left my bench. We're all made stronger by the company we keep, and I found myself in some very good company at Erico. Being a woman in this world can be difficult. Being a woman in this industry can be a challenge. *winks* One thing I can tell you, this mean and rugged bike is pretty sweet.