"It's Not So Much a Neighborhood, as It Is This Kind of Secret Hangout"….Denver Post 2003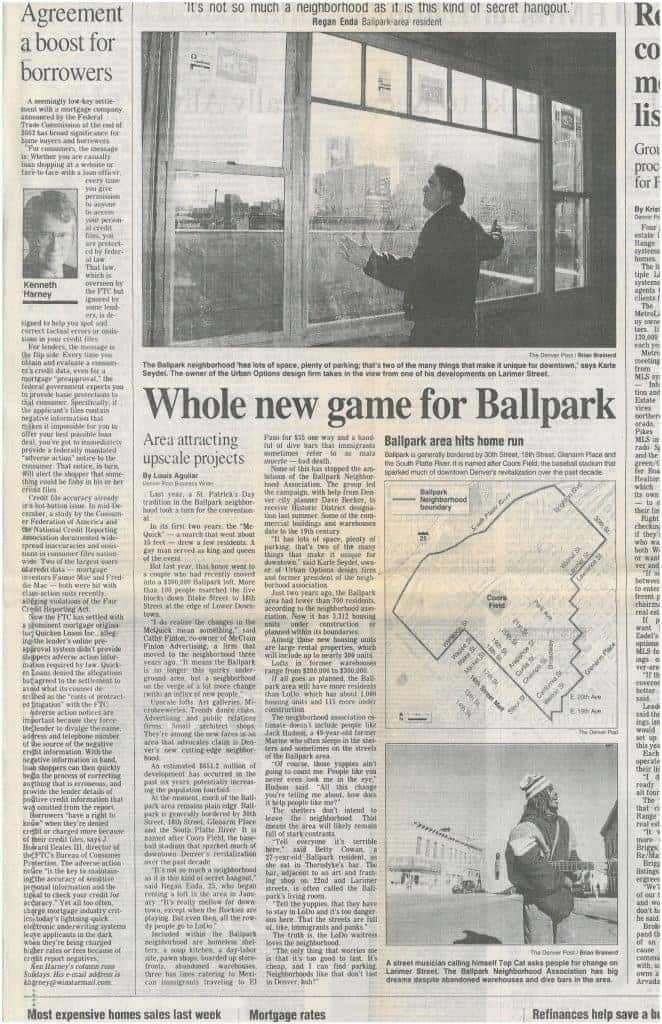 I found an old file in my desk the other day and started flipping through it. This is where I've been placing articles about our neighborhood since we bought the first Erico building in 1999. Where does the time go? It's 16 years later and so many things have changed.
Some of you might remember when there were actual railroad tracks going down Walnut Street. These tracks were basically storage for railroad cars. Afterhours, we would watch the trains roll down the tracks in front of our loading dock. The tracks were pretty dangerous when bikes came flying down the street to visit Erico, so we worked with Elbra Wedgeworth, our City Councilwoman at the time, to have the tracks removed, thus paving the way for redevelopment of our street.
There used to be a Butcher Block café on the site of what is now the hip and cool DaDa Art Bar. When Penn was a newborn, the three of us would come to work together, but our first stop before Erico was the Butcher Block. The waitresses all knew our names, we had the same thing every morning and they even put Penn's baby photo on their fridge with a magnet. After breakfast we would head to the shop and before we opened for business we first had to ask the guys who lived under the front dock to leave for the day. Yes, it was a bit seedy, and a rather strange environment in which to raise a child, but it was our home away from home.
Once Penn began to go to school, she would come to work after school to do homework. Back then there weren't any cool coffee shops around to take her to for an after school snack. However, on the site that is now Crema Coffee used to be a little convenience store called Joe's. The owner, Joe, would always make sure Penn's $1 went a long way with penny candy, beef jerky sticks and a bottle of juice. Now don't get me wrong, I am a huge fan of Crema coffee, but I also hold fond memories of Joe's place too.
All of us at Erico are anxiously awaiting the construction to be done at Hartley Flats so we can welcome over 300 new residents/possible two wheel enthusiasts to our hood. But once again, my heart is a little heavy, because before the Hartley Flats occupied the 27th block of Walnut St, it was a big empty lot. This lot was perfect for teaching Penn to ride a dirtbike, and it made for great overflow parking, alas those days are gone.
I also remember the big secret warehouse that was two doors down from Erico. People always came and went under cloak and dagger, and we had no idea what was going on, until John decided to go introduce himself. This was in the beginning of the "recreational stage" and low and behold we were neighbors with a rather large grow facility. However, one night, they just disappeared and now the building is the home to Mile High Winery and Stem Ciders.
I could go on and on, but I need to get back to bossing around the boys at Erico. Thanks for letting me reminisce, but especially thank you for reading this and being a part of our journey.
Xxoo The Boss Lady