How to Winterize a Motorcycle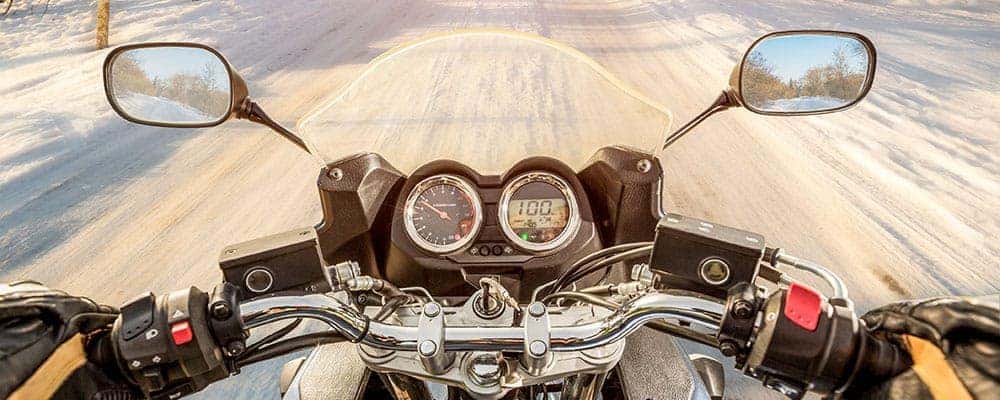 Winters around Thornton bring plenty of snow, but that shouldn't mean you have to store your motorcycle away for the season. If you plan on riding a motorcycle in winter, check out our tips for how to winterize a motorcycle. As your trusted Denver motorcycle dealer, Erico Motorsports has the helpful hints you need!
How to Winterize a Motorcycle
Most people are three-season riders, but if you're willing to brave the sometimes bitter winter cold, there are things you can do to make riding through the winter more pleasant. Here are some ways to prep your motorcycle, along with a few winter safety tips to keep in mind:
Tire Care: Change your motorcycle tires for a winter set with plenty of treads. Also, be sure to check the tire pressure for both tires to ensure they're properly inflated before you hit the road.
Protect Yourself from the Cold: Buy a large windscreen to protect yourself from cold wind and debris. You can also purchase wind guards to protect your legs and a set of heated grips for the handlebars to keep your hands toasty warm.
Check/Replace Fluids: Get a new antifreeze that's rated for cold temperatures if you're riding a water-cooled motorcycle. You'll also want to change the oil and oil filter to ensure the engine is prepped for the cold months ahead. Also, check the air filter and clean it or replace it.
Check the Radiator: Make sure your hoses and radiator are in good condition to avoid getting stranded.
Use a Protective Cover: When you're not riding your motorcycle, keep it covered. If you go two weeks or so without riding it, start it for a few minutes to make sure everything's running optimally.
Above all, make sure you know how to ride your motorcycle in the winter, including watching out for salt, cracks, and black ice, as well as increasing your following distance. You'll also want to avoid riding if it's snowing.
How to Store a Motorcycle for Winter
Most riders choose to store their motorcycle for the winter. If that's your plan, then there are important steps you'll want to take to get your prized bike ready for storage, including:
Park your motorcycle in a climate-controlled garage. Choose a cool, dry place that's safe from direct sunlight exposure. If you don't have access to a climate-controlled garage, then make sure you have a heavy-duty cover to wrap over the bike for protection from the elements.
Thoroughly wash and wax the bike. Remove the dirt and grime from your bike, and give the paint and chrome a good waxing. Leave a thick coat of wax on the bike to keep dust, bugs, and dirt at bay.
Lubricate the chain, cables, controls, and all other moving parts. You'll also want to check your brake pads, tires, and chain for any wear and tear. You don't need to replace them ASAP since you won't be riding anytime soon, but make a note to do so before the weather warms.
Fill the fuel tank up to at least 90% or so. Also, add the correct amount of fuel stabilizer to prevent the fuel from breaking down and leaving residue on the carburetor's parts. Turn the engine on for a few minutes so the fuel can cycle.
Remove the battery and store it in a warm location. A battery tender will also help to prolong the life of the battery.
Drain the float bowls on the carburetor (if your bike has one).
Hang out until spring. Again, if you've noticed any areas that need attention or replacing, make a note and work on them in the interim, so you're good to go when the weather turns nice!
Get DIY Motorcycle Care Tips from your Denver Motorcycle Dealer!
Follow Erico Motorsports for more on how to winterize a motorcycle or how to store a motorcycle near Westminister. Whether you're an advanced rider looking to maximize your time on your bike this winter or a novice who just recently got their motorcycle license, our team of experts has the tips and tricks you'll need to enjoy your motorcycle year-round. If you have any questions for us, such as how to clean a motorcycle, don't hesitate to get in touch!
Erico Motorsports Answers More Motorcycle FAQs
Winters around Thornton bring plenty of snow, but that shouldn't mean you have to store your motorcycle away for the season. If you plan on riding a motorcycle in winter, check out our tips for how to winterize a motorcycle. As your trusted Denver motorcycle dealer, Erico Motorsports has the helpful hints you need! Learn More…

If you're shopping for a new bike for zipping around Thornton, you may be wondering, "How much is a Ducati?" Erico Motorsports has you covered with our Ducati price guide below. Whether you're interested in a new Ducati Panigale or Ducati Scrambler, chances are you can find one within your price range! Browse New Ducati Inventory…

Service Writer Work with customers to schedule service work and communicate any additional service needed, also handle the administrative and customer relations aspects of service department operations.  Must possess strong communication skills to deal with customers, employees and vendors. Interpret customer concerns and comments for the technician, so that the technician will diagnose problems correctly,…