How Much Does a Ducati Motorcycle Cost?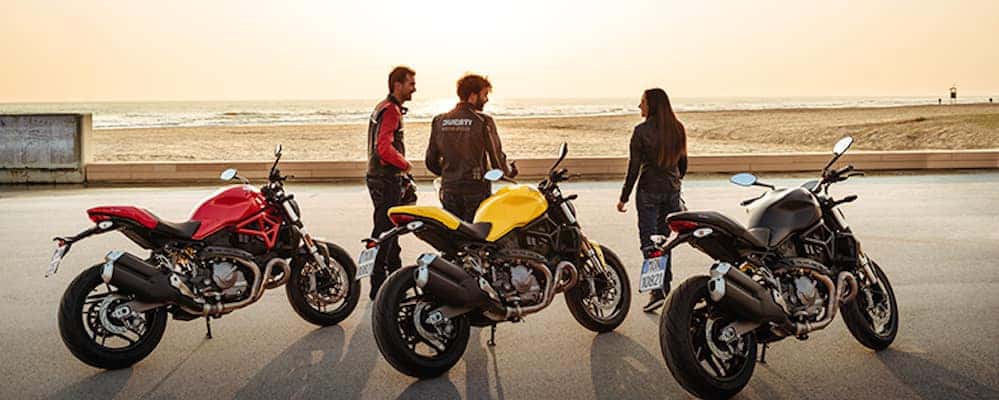 If you're shopping for a new bike for zipping around Thornton, you may be wondering, "How much is a Ducati?" Erico Motorsports has you covered with our Ducati price guide below. Whether you're interested in a new Ducati Panigale or Ducati Scrambler, chances are you can find one within your price range!
Ducati Diavel Price
Agile and capable of up to 159 hp, the Ducati Diavel offers maximum riding enjoyment for a reasonable price.
Ducati Diavel 1260 Price: $19,995 MSRP
Ducati Diavel 1260 S Price: $22,995 MSRP
Ducati XDiavel Price
The Ducati XDiavel generates up to 152 hp and is also available in a new color: Matte Liquid Concrete Grey.
Ducati XDiavel Price: $20,795 MSRP
Ducati XDiavel S Price: $24,295 MSRP
Ducati Hypermotard Price
Equipped with a 114-hp Testastretta 11° engine, the Ducati Hypermotard can go the distance, whether you're weaving through Thornton or hitting the highways.
Ducati Monster Price
Available in six sophisticated configurations, the Ducati Monster's engines produce 73 hp to 152 hp.
Ducati Multistrada Price
With a horsepower range of 113 to 158, the Ducati Multistrada delivers unforgettable performance on and off the beaten path.
Ducati Multistrada 950 Price: $16,995 MSRP
Ducati Multistrada 950 S Price: $16,995 MSRP
Ducati Multistrada S SW Price: $16,995 MSRP
Ducati Multistrada 1260 Price: $20,995 MSRP
Ducati Multistrada 1260 S Price: $20,995 MSRP
Ducati Multistrada 1260 Pikes Peak Price: $25,495 MSRP
Ducati Multistrada 1260 Enduro Price: $21,795 MSRP
Ducati Panigale Price
The Ducati Panigale offers it all: style, power, and speed. Best of all? It fits into a variety of price ranges.
Ducati Panigale 959 Price: $15,495 MSRP
Ducati Panigale 959 Corse Price: $17,895 MSRP
Ducati 1299 Panigale R FE Price: $39,900 MSRP
Ducati Panigale V4 Price: $21,495 MSRP
Ducati Panigale V4 S Price: $27,895 MSRP
Ducati Panigale V4 S Corse Price: $29,995 MSRP
Ducati Panigale V4 Speciale Price: $39,995 MSRP
Ducati Panigale R Price: $40,000 MSRP
Ducati Panigale 25th Anniversario 916 Price: $42,500 MSRP
Ducati Supersport Price
The Ducati Supersport melds sharp and compact design with powerful performance. Both the Supersport and Supersport S produce 110 hp.
Ducati Scrambler Price
Laid-back yet brimming with personality, the Ducati Scrambler is the perfect bike for cruising around Aurora in style.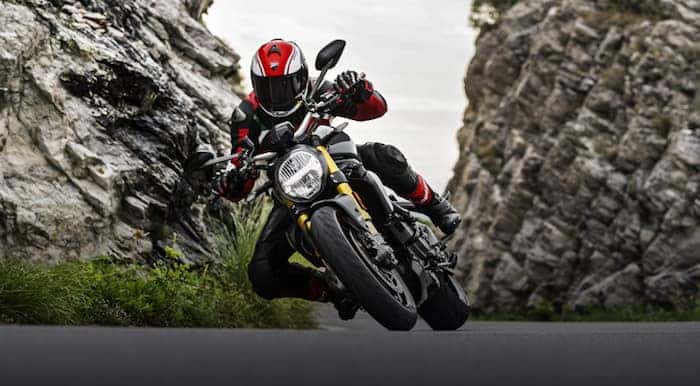 Explore the Ducati Price Ranges at Erico Motorsports!
Now that you know the answer to the question, "How much is a Ducati?" get ready to explore the full lineup! Contact us at Erico Motorsports to schedule a test drive near Thornton and Westminister and to learn more about who owns Ducati. While you're here, be sure to ask about our Ducati incentives for possible savings on the bike you want. Still exploring your options? Check out our Vespa price guide to learn more!
Learn More About Ducati Bikes at Erico Motorsports