How Fast Does a Vespa Go?
Vespa scooters are known for their agility and zippy performance, but how fast does a Vespa go? Like any vehicle, the top speed of a new Vespa depends on the size and weight of its engine. Typically, a sub-50cc scooter can reach speeds of up to 40 miles per hour. Meanwhile, a scooter with a larger displacement can go up to nearly 80 mph. Learn more about the Vespa scooters, their speeds, and engines below!
Vespa Top Speed By Model
Which is the right scooter for cruising down Thornton and Westminister roads? That depends on you! Below, you'll find a quick overview of each Vespa scooter's powertrains and top speeds:
Vespa Primavera Top Speed: The Vespa Primavera is offered in two main trims: Primavera 50 and Primavera 150. The Primavera 150 is powered by 150cc and has a top speed of about 59 mph.
Vespa Sprint Top Speed: The Vespa Sprint can be had in one of two main trims: Sprint 50 and Sprint 150. Sprint 150 has a displacement of 155cc and reaches a top speed of about 60 mph.
Vespa GTS Top Speed: The Vespa GTS is powered by a 278cc displacement. At its highest speed, the GTS travels up to 78 mph. This is also the case for the GTS Super 300.
Vespa Sei Giorni Top Speed: With the Sei Giorni, you can travel up to 73 mph, courtesy of its 278cc displacement.
Vespa Elettrica Top Speed: The Elettrica is the brand's electrical scooter, and can travel up to 30 mph with an electric powertrain that's the equivalent of a 50cc.
Vespa 946 Top Speed: Equipped with a 155cc 4-stroke engine, the Vespa 946 reaches a top speed of about 60 mph.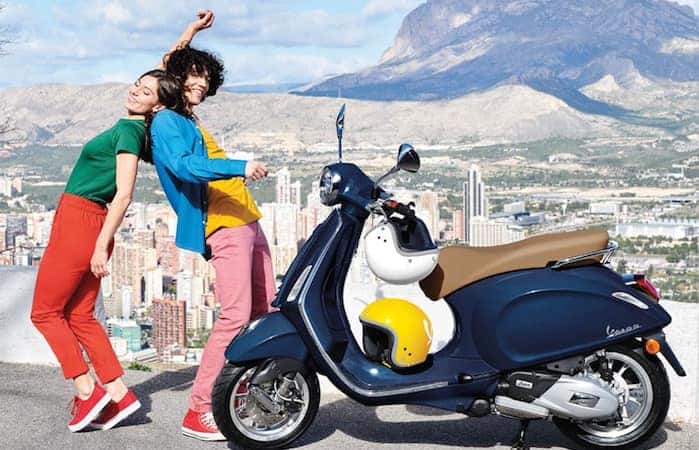 Customize Your Vespa with Riding Gear & Accessories
If you plan to hop on a Vespa anytime soon, consider upgrading your riding gear and motorcycle apparel! Whether you're looking for ideas for the best motorcycle jackets, boots, or riding pants, our team can share our picks for must-have riding gear. We can also answer any questions you may have about motorcycles in general, such as, "What is high mileage for a motorcycle?" or, "How do I winterize a motorcycle?"
Test Drive a New Vespa at Erico Motorsports Today!
Now that you know the answer to the question, "How fast does a Vespa go?" you're ready to take one for a test drive in Denver! Contact us at Erico Motorsports to schedule an appointment near Westminister and Aurora. While you're here, be sure to ask about our Vespa offers and how buying a scooter of your own is more beneficial than relying on services like Lyft Scooter.
Recent News from Erico Motorsports
Winters around Thornton bring plenty of snow, but that shouldn't mean you have to store your motorcycle away for the season. If you plan on riding a motorcycle in winter, check out our tips for how to winterize a motorcycle. As your trusted Denver motorcycle dealer, Erico Motorsports has the helpful hints you need! Learn More…

If you're shopping for a new bike for zipping around Thornton, you may be wondering, "How much is a Ducati?" Erico Motorsports has you covered with our Ducati price guide below. Whether you're interested in a new Ducati Panigale or Ducati Scrambler, chances are you can find one within your price range! Browse New Ducati Inventory…

When I was a child, everything that was "Adult" excited me! I remember pretending my lunchbox was my attache like my Father would carry to and from work and that my desk at school was a desk in an office that I was president of! When I got my first bicycle, I had arrived! I…