Get to Know Our Service Manager – Mike La Count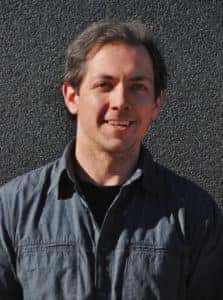 It's time for our inaugural "Get to Know an Erico Employee". This month we're featuring Mike La Count, Erico's brand spanking new Service Manager. Enjoy.
Q: Colorado native? If not where are you from?
A: I grew up in Green Bay, WI but have spent the last seven years in Milwaukee.
Q: You have a unique last name, does it have a story?
A: Yes, it does.
Q: Do they call you the French Dracula because you only drink the blood of French people? Or Are you from France?
A: Just to clarify French Dracula is just short for French-Canadian Dracula. The only time I would actually drink blood is when Budweiser is the only other option.
Q: What motorcycle or scooter do you ride now?
A: Currently the only bike I own is a disassembled '94 Sportster.
Q: What is your dream bike or scooter?
A: See answer above…haha. But seriously, it honestly changes daily but right now I would say either a Ducati Panigale or GT.
Q: Age you first rode a motorcycle
A: I believe the first time I drove one was around age 14. I'm not exactly sure though, I didn't start wearing a helmet until a few years later. The first time I ever rode on one was as a little guy with my dad.
Q: Metal or punk?
A: Punk
Q: Elvis or Beatles
A: Beatles
Q: Best concert you've attended
A: The best concert I've ever attended was a Bob Dylan concert in 2001. It was a great show. I was pretty young and it was the first concert I went to where I was a really big fan of the artist. Conversely, one of the worst shows I've been to was a Bob Dylan concert six years later. Time had been harsh and his ability to perform live deteriorated quite a bit. Mr. Bojangles doesn't jump so high anymore.
One of the greatest performers I've ever seen is Paul McCartney, however. I would recommend any music fan see one of his shows if possible. Regardless of how big a fan you are, I would say there is no one I know of that puts more effort into putting on an totally entertaining performance.
Q: Dogs or cats?
A: Dogs. I have nothing against cats, however the number makes a big difference. If you're hanging out with a pack of dogs, you're probably having a good time but if you're hanging around a clowder of cats, you're probably insane.
Q: What's the coolest thing about working at Erico Motorsports?
A: I can walk to work from my house, and the staff is really fun, plus you get to be around cool motorcycles all day.
Q: Favorite movie?
A: Memento and V for Vendetta are up there. It really kind of depends on genre I suppose. I like a lot of the Pixar stuff too.
Q: Favorite TV show?
A: Some of my favorites include Arrested Development, Top Gear and Wilfred. I really liked the earlier years for the Simpsons and King of the Hill. I've always liked comics and animation.
Q: Mac or PC?
A: PC, I'm not a communist.
Q: Turn ons?
A: I like independent, intellectual girls and riding motorcycles is a huge plus.
Q: Turn offs?
A: Cigarettes, watching reality tv, racism.
Q: Formula 1 or Moto GP?
A: Formula 1
Q: Ski or snowboard?
A: Skiing
Q: Favorite sport?
A: My favorite sport to watch is football. My favorite sport to play is rugby.
Q: Tell us something about yourself that nobody knows…
A: That's not really possible. I can't tell you something that I don't know.
Q: Bourbon or beer?
A: Usually beer but I do really like whiskey.
Q: Big spoon or little spoon?
A: It depends, if we're awake big spoon, if we're sleeping little spoon. Haha, just kidding…I need my space when I'm sleeping.
Q: I noticed you're not stupid…. But I hear you're from Milwaukee. Care to elaborate?
A: Thank you…? I'll have you know Chris Farley was educated in Milwaukee, so…you know…take that. It's really a great city. There is a lot to do in the summer. It's in an awesome location on Lake Michigan. Oh sorry, Lake Michigan is a large body of water… oh sorry, water is like dirt except it looks nicer and is quite refreshing to be around.
Q: Tinder or Grinder
A: I tend to get most of my dates through blogs. So ladies, to reiterate that's Mike "French Dracula" La Count and I can be reached at mikel@ericomotorsports.com.