How Much Does a Ducati Monster Cost?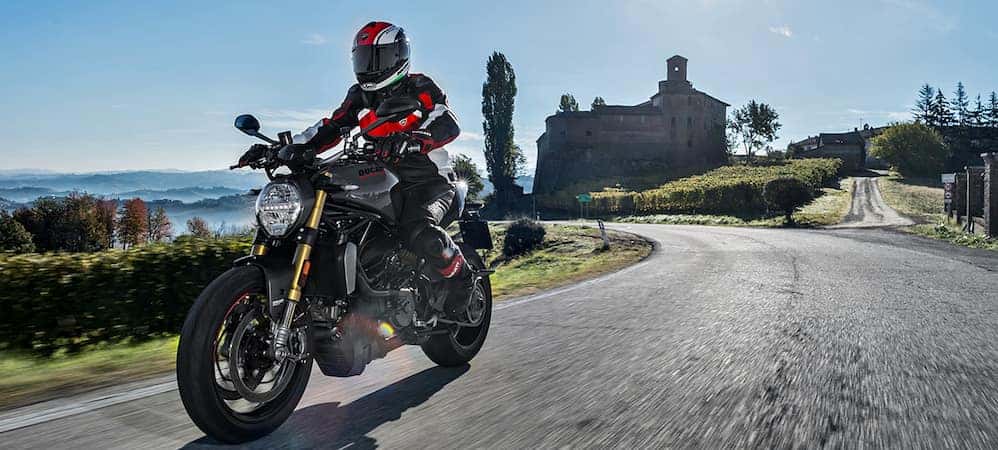 The new Ducati Monster has caught the attention and imaginations of bike enthusiasts all around Westminister, but how much does it cost? Below, you'll find the full range of Ducati Monster models, arranged by price; as you'll find, a new Ducati Monster costs anywhere from $9,295 to $19,395 MSRP. Learn more about notable Ducati Monster features, and test drive the model of your choice at Erico Motorsports, where we have a full lineup of Ducati bikes for sale at our Denver Ducati dealership.
Ducati Monster: Price & Models
The Ducati Monster is available in a number of different configurations, offering a wide range of appeal for riders with different budgets. No matter which way you go, you'll be getting a naked Italian bike that's durable and sporty, certain to turn heads and thrill at every corner:
Discover the Ducati of Your Dreams
The Ducati Monster is the best-selling motorcycle from Ducati, which is owned by Lamborghini. This is thanks in no small part to its ability to bring high-performance capabilities, strong structural integrity, and an affordable price line to Denver motorcyclists. A naked muscle bike that shows off its engine and inner parts, the entire Ducati Monster lineup has been designed by Miguel Angel Galluzzi and produced in Bologna, Italy for the last 25 years. Highlights on this year's model include:
Naked trellis frame
Double-sided swinging arm
Wide handlebars
LCD screen
Cornering ABS
Ducati Quick Shift (1200 series)
147-hp engine (1200 series)
Available Sport, Touring, and Urban riding modes
Find the Ducati Monster for Sale Near Thornton at Erico Motorsports
Learn more about your Ducati Monster financing and lease options right now near Aurora at Erico Motorsports, where you'll also find other affordable models like the Ducati Scrambler for sale. Our dealership is open for sales Tuesday through Saturday from 10:00 a.m. to 5:00 p.m., and you can contact us online or give us a call directly at (303) 308-1811 to set up a test ride today!
More About Ducati Bikes from Erico Motorsports
Service Writer Work with customers to schedule service work and communicate any additional service needed, also handle the administrative and customer relations aspects of service department operations.  Must possess strong communication skills to deal with customers, employees and vendors. Interpret customer concerns and comments for the technician, so that the technician will diagnose problems correctly,…

Our customers are really lucky to have a bonafide Ducati Master Technician, with extensive track experience, working on their prized possessions. A few days out of the month Erico bids Thomas "Godspeed" and sends him on his way to work on the race bikes of some of MotoAmerica's top riders.  Here is a quick rundown…

Erico Motorsports in Denver is Colorado's largest REV'IT! dealer.  Our apparel experts are excited to show you the attributes of the new REV'IT! Urban Collection.  The purpose of each garment is to provide all the comfort and protection you need cleverly disguised in fashionable outer…