Motorcycle Road Trips from Denver
The motorcycle road trip opportunities in Colorado are seemingly endless. With so many winding roads and breathtaking sights to see, you can travel all day and see just a small portion of what the Denver area has to offer. Looking for exciting routes to explore on your new or used motorcycle? Erico Motorsports has a few suggestions! Learn more about some of the most popular trips for bikers in the local area.
Road Trip Idea #1: Denver to Idaho Springs, CO
Want to leave the hustle and bustle of daily life in Denver behind for a few hours? This is the perfect ride for glimpsing the Rocky Mountains and getting a breath of fresh air. From Denver, this route takes you through downtown Morrison, Evergreen, then Mt. Evans — North America's highest paved road. From there, you'll head down to Idaho Springs, which is full of great places to eat, relax, and play pinball. When you've had enough fun for the day, hop onto I-70 to head back to Denver.
Road Trip Idea #2: Denver to Estes Park, CO
If you're in the mood for an event-filled ride, this is the motorcycle road trip to take. Head toward Golden from Denver. On your way, stop and check out Coors Brewing Company — the world's largest brewery. Until you reach Blackhawk/Central City, you'll enjoy miles of smooth paved roads and lush scenery. Blackhawk/Central City is essentially a smaller version of Las Vegas, with plenty of gaming opportunities. From there, bike into Nederland for a bite to eat, then cruise to Estes Park to check out some of the local wildlife. Jump onto Highway 36, and travel into Boulder and then, finally, Denver.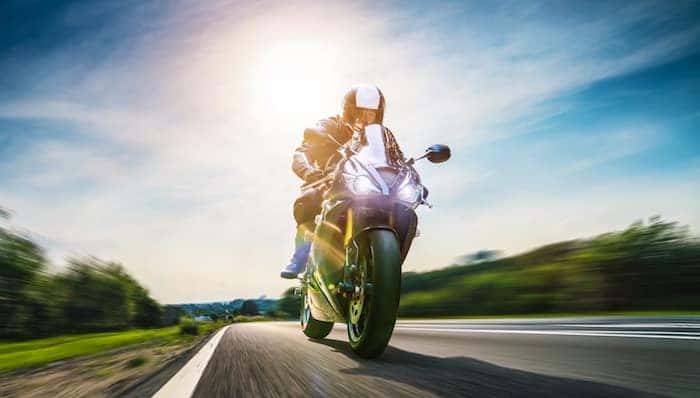 Road Trip Idea #3: Denver to Frisco, CO
For a ride you won't soon forget, hop onto 285. That'll take you right past the Buck Snort Saloon near Pine, CO — a favorite among local bikers. Then, head into the small mountain town of Bailey for a pick-me-up cup of coffee, and continue following 285 over Kenosha Pass — the largest Aspen grove in the world. Eventually, 285 will take you to Fairplay (a.k.a. South Park). Head northwest on Highway 9 and you'll find yourself in Breckenridge and then Frisco, which are both full of exciting restaurants and shops. When you're ready to head home, jump onto I-70 east back to Denver.
Get More Local Suggestions from Erico Motorsports!
Learn more about Denver from Erico Motorsports! Whether you're looking for the best motorcycle road trip routes and riding songs, motorcycle safety tips, or live music venues in Denver, our team of locals can point you in the right direction. Contact us to learn more about our dealership or to get more recommendations, such as the best types of riding gear for your upcoming road trip!
More Local Recommendations from Erico Motorsports
Service Writer Work with customers to schedule service work and communicate any additional service needed, also handle the administrative and customer relations aspects of service department operations.  Must possess strong communication skills to deal with customers, employees and vendors. Interpret customer concerns and comments for the technician, so that the technician will diagnose problems correctly,…

The staff at Erico Motorsports is committed to being a neighbor to our friends in greater Denver, which is why we're happy to highlight the many great things going on at the local Ronald McDonald Houses in Denver and Aurora. Check it out here, and then count on our dealership near Westminister for all your…

At Erico Motorsports, we know tattoo parlors in Denver have become a frequent haunt for all types of folks, from weekend warriors to members of Denver riding clubs, not to mention non-riders! So what are the best tattoo shops in Denver, and where can you find the best tattoo artists in Denver? Don't settle for less…