Best Motorcycle Riding Songs
Is there anything better than you, your new bike, and the open road? Some classic rock music, maybe? If you're tired of the sound of the wind in your ears or just want to listen to something other than Denver traffic noises, then check out the motorcycle riding songs selected by the friendly staff at Erico Motorsports and upgrade your Thornton drive without spending a dime!
Best Classic Rock Music to Take on the Road
Whether you prefer the hard-rocking ballads of the '80s or the music of the '60s is more your style, there's something to get your motor running on this list:
Steppenwolf, "Born to Be Wild": The quintessential hard rock tune (and the first known use of the term "Heavy Metal"), "Born to Be Wild" is the song against which all other biker songs will forever be judged.
AC/DC, "Highway to Hell": While there are plenty of songs from the Back in Black album that could have made this list, is there a tune that describes Aurora traffic better? We think not.
Jimi Hendrix, "Ezy Rider": Hendrix's guitar combined with his soulful take on this song makes it a natural choice for any music lover's list.
Motörhead, "Iron Horse": If the passionate guitar doesn't pull you in, the lyrics will. For any true rider whose life begins on the open road, this one is a must.
Twisted Sister, "Live to Ride, Ride to Live": It's an anthem to a generation of riders obsessed with leaving the mundane behind and seeking adventure on the highway.
Neil Young, "Motorcycle Mama": Even if you aren't a fan of the man, there's something about this song that puts us in the riding frame of mind every time.
Meatloaf, "Bat Out Of Hell": This one's an epic rock ballad that takes the idea of lyrical storytelling to the extreme but does it so well that you can't help but sing along — for the whole 10 minutes.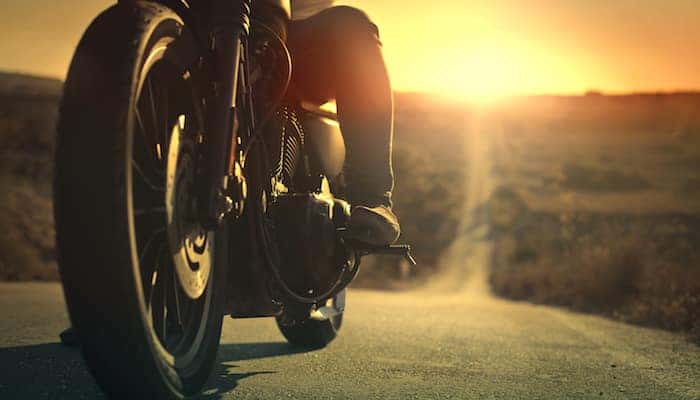 Find Your Ride at Erico Motorsports!
If you're ready to answer the call of the open road with a new or used bike, contact us today! Already have a bike of your own? From building a motorcycle riding music playlist to upgrading your ride with must-have riding gear or exclusive accessories, Erico Motorsports is here to help you make every ride better than the last.
More Motorcycle Tips from Erico Motorsports
Winters around Thornton bring plenty of snow, but that shouldn't mean you have to store your motorcycle away for the season. If you plan on riding a motorcycle in winter, check out our tips for how to winterize a motorcycle. As your trusted Denver motorcycle dealer, Erico Motorsports has the helpful hints you need! Learn More…

Our customers are really lucky to have a bonafide Ducati Master Technician, with extensive track experience, working on their prized possessions. A few days out of the month Erico bids Thomas "Godspeed" and sends him on his way to work on the race bikes of some of MotoAmerica's top riders.  Here is a quick rundown…

What is considered high mileage for a motorcycle depends on the kind of used bike you're interested in purchasing. For example, a used sports bike could be considered high-mileage as early as 20,000 or 30,000 miles, while a larger motorcycle might be considered high-mileage around 50,000 miles. However, if you find a bike you like…