Accessorize your Ride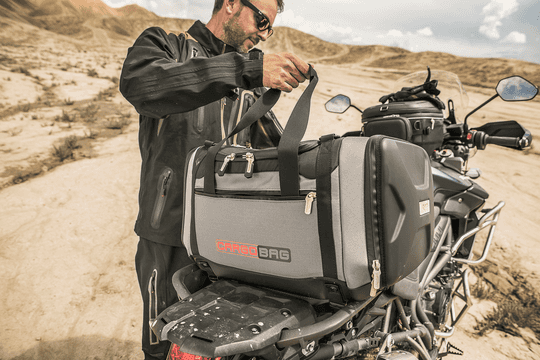 Whenever you begin the process of accessorizing your bike, start by asking yourself these important questions:
What kind of riding will I be doing, i.e. Cross country touring?  In-town riding? Or a few long rides on the weekends?

Which accessories work best with my bike?

Which accessories are going to keep me safe?

How much do I have available to spend?
Once you have the answers to these questions it's best to pay a visit to your local dealership.  Shops like Erico Motorsports, have people on staff with years of experience riding motorcycles.  They have been trained on the latest technology, and they are excited to help outfit your bike to meet your specific needs.
Here is a list of accessories and manufacturer recommendations that can help give you a start:
Navigation:  The Garmin zūmo® 595LM premium GPS motorcycle navigator is built for adventure. Integrated options with the Garmin Adventurous Routing™ feature get you ripping through funky hills and the terrain-hugging rides you dig. The 595LM motorcycle GPS navigator is "built to thrill." This glove-friendly, 5.0″ high res touch screen is one of the largest in the line. Viewable in portrait or landscape orientation, you pick the best viewing angle for your navigating preferences. Transflective technology gives it a bright, crisp color display that reduces glare and is easy to read in sunlight.  Erico's technicians are trained to install a navigation system as well as show you how to operate it.
Luggage:  Whether it's a tank bag or a pannier, it's important to ensure that your luggage is made to fit securely on your particular motorcycle.  One of the best ways to ensure that happens is to buy luggage that is made by the manufacturer for your specific model. At Erico we recommend Triumph's genuine leather panniers and tank bags.  This luggage is designed to not only be functional but also to enhance the traditional  feel of your Triumph. Also, it's important that your luggage provide storage that is adequate for your needs and that the bags are mounted with study rails for maximum support.   And one final thought, make sure you purchase a rain cover to protect your luggage during those heavy Spring downpours.
Tire Puncture Kit:  Many of us have been there. You are cruising along, enjoying your ride when all of a sudden your tire goes flat. For this reason, it's a good idea to keep a plug kit and inflation device with you every time you ride.  You will want to ensure your puncture kit includes a CO2 canister so you can re-inflate the tire and also that your kit is compact enough to fit in your luggage.
Tool Kit:  If you buy a new bike, it will come equipped with a roadside tool kit.  This manufacturer's kit will ensure that you have the correct tools for your bike, i.e. metric or standard.  But if you feel that the manufacturer's kit isn't enough, then there are definitely many options out there. No matter what kit you choose make sure, at a minimum, it contains wrenches, pliers, screwdriver, electrical tape, cable ties, and a little safety wire.  Any tool kit you purchase should be encased in a sturdy, roomy pouch that fits securely on your bike.
Protective Covers:  Motorcycle covers are a necessary part of owning a nice bike. You will want to protect that beautiful motorcycle from dust, rain, or scratches. But what is the best motorcycle cover for your particular needs and your bike?  When you are shopping for a cover, make sure it fits snugly, is breathable, and releases moisture. The cover material needs to protect against rain, dust, heat, tree sap and UV rays. A few other features that make a cover top-notch are extra grommets for tying it in place and reflective tape so people can see your bike if it is undercover outside.
Security System:  For the added peace of mind it brings, adding a security system to your motorcycle can be a good investment. Next time you are at your local Triumph dealer ask about Triumph's security devices such as the Thatcham electronic immobiliser and alarm system.  This system can easily be installed by an Erico Motorsports factory trained technician. Another worthwhile security device is a portable U-Lock which can be threaded through your wheel spokes and attached to an external anchor point. This will also keep your bike safe until you return.
Windscreen: Having a windscreen on your bike is going to help protect you from flying debris, such as rocks, pebbles, dirt, loose pavement, and bugs!  Most debris is kicked up by other vehicles on the road. Oftentimes these things come at you without any warming and leave you little time to maneuver out of their way.  A windscreen can help deflect these items, and give you piece of mind when you ride. Remember whenever you ride, the wind can quickly kick up and pound against your body as you are moving down the road.  This can make it difficult for you to steer, thus making your journey not only uncomfortable, but very hazardous. A professionally installed windscreen can make all the difference on your next long-distance ride.
Bluetooth:  Today the range of helmet communicators is remarkable.  Bluetooth communication makes riding with friends that much more safe and enjoyable.  A few examples of this technology include:
You can listen to music, make calls, or even ask Siri to find you the next gas station.

You can talk to your passenger which gives a whole new dimension to your touring experiences and it's as simple as the push of a button.
New in 2019, Triumph Motorcycles is rolling out the new Triumph TFT Connectivity system including the launch of the MyTriumph app.  This technology will give Triumph riders the world's first motorcycle integrated 'GoPro' control system, including a turn-by-turn navigation system powered by Google.  This is the first Google partnership with a premium motorcycle manufacturer. In addition, the app will provide music and phone integration.
Hand Guards:  Installing hand guards is the insurance you need for protection against busted levers and knuckles.  As an added bonus hand guards offer substantial protection from wind and debris. It's always best to check with your local dealer to make sure the hand guards you plan to purchase will fit on your bike.
Motorcycling is an exciting sport that will give you years of pleasure, especially when it's done safely and in partnership with your local dealer.